Make no mistake, drones have become essential technology for aerial surveying. The scope of images and videos that they routinely deliver is breath-taking – and this can be achieved for a fraction of the cost of traditional aerial surveying.
Today, aerial survey companies have a wealth of choice when deciding which drone is best suited to their aerial mapping purposes. Year on year precision engineering and hardware innovation bolsters and hones even the most precise nuances of design and operational functionality, leaving commercial drone customers a head scratching amount of choice.
So rather than analyse which is the best overall drone; one that will deliver accurately map an area, deliver parcels, film HD panoramic aerial video in jaw-dropping detail or inspect building constructions a hundred floors above ground level, let's take a single purpose, aerial mapping, and review the best drones in 2021.
Top Drones for Aerial Mapping in Dubai 2021
DJI Matrice 300 RTK
When it comes to drones, DJI stands tall as the brand with a reputation to be envied. Each model consistently delivers on its promises, pushing the boundaries of what's possible.
Featuring innovative obstacle avoidance and aerial awareness tools, the DJI Matrice 300 RTK is one of the safest drones for aerial mapping in Dubai. Included with the drone is RTK GPS capability, in addition to Airsense ADS-B tech and several smart tools which guarantee sublime accuracy and safety, making the DJI Matrice 300 RTK perfect for aerial mapping.
Moreover, the new Ocusync Enterprise gives this drone a range of up to 15km, or almost 10 miles – more than enough for you to survey landscapes remotely with ease! Better still, the DJI Matrice RTK provides triple channel 1080p video transmission, has 23 x zoom, a 12 MP wide angle camera and a laser range finder with the new Zenmuse H20 payload. Now, that's what we're talking about!
DJI Mavic 2 Enterprise
If you're looking for a more affordable drone with the capabilities of delivering pinpoint accurate Dubai aerial mapping, then the DJI Mavic 2 Enterprise could be just the drone you're looking for.
Though it may use the same platform as the Mavic 2 Pro and Mavic 2 Zoom, the DJI Mavic 2 Enterprise adds mounting points for accessories. Adding a spotlight, beacon, speaker, or smart controller is easy, allowing aerial survey companies to customise the drone to their precise needs.
The 'scalability' of the DJI Mavic 2 Enterprise has already attracted many aerial surveyors to buy the drone. And with a basic price of $1999 compared to the $6,500 of the DJI Matrice 300 RTK it's not hard to see why!
Yuneec H520
Although it's hailed as a commercial drone for many applications, where the Yuneec H20 really excels is aerial mapping. Designed for professional use, this six-rotor drone offers three cameras that can be swapped for optimal aerial mapping in Dubai.
The Yuneec H520 is great for surveying. Why? Well, we can list numerous reasons, but how about this, you can download location maps and store them on the controller itself. You don't need to worry about having an Internet signal!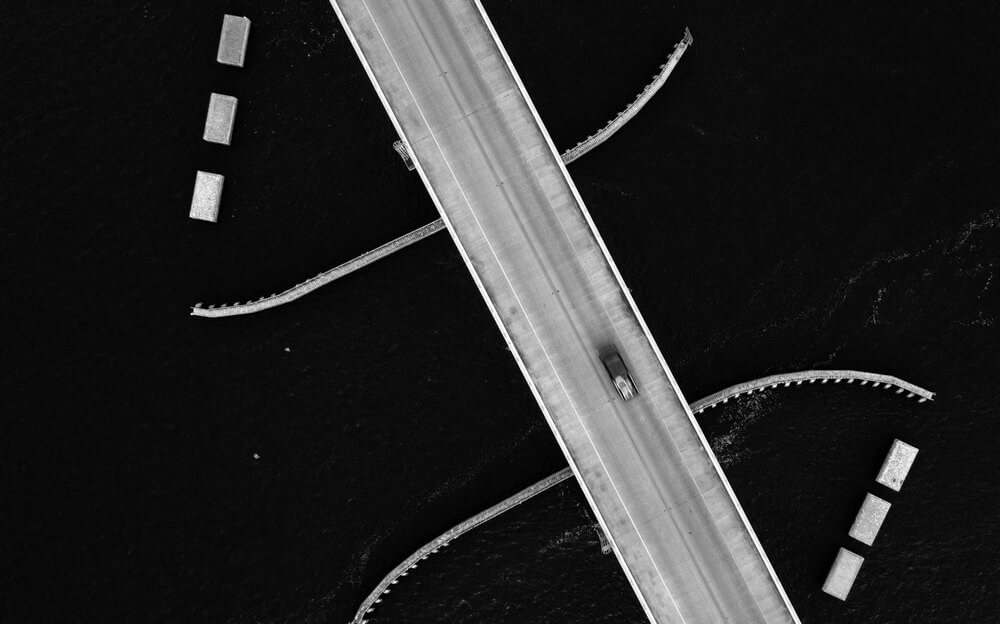 So, let's say that you're surveying a location for the first time, isn't it so much easier to familiarise yourself with the landscape ahead of time? With the Yuneec H20 all you need to do is to the plan menu and select survey mode. A grid of white lines (the flight paths) and a green overlay will then appear across the area you're surveying. Choosing how you'll navigate the area is as easy as A, B, C!
Better still, you can adjust your flight path whilst surveying the area by sliding white dots on the overlay and hey presto! New flight paths. Once you've plotted your flight paths, they can be programmed into the Yuneec H520 so if you choose to return to take another survey, replicating the previous paths you took is a cinch. Not bad for $2,500!
Parrot Anafi
One of the best entries in the consumer drone market, the Parrot Anafi is lauded as being superb for aerial mapping in Dubai. And, it costs just $699!
With an articulating gimbal, the 21 MP 4K camera can capture images vertically, pointing straight down and focusing on a specific area. This function alone makes it easy for aerial survey companies to capture image angles that some other drones would struggle to.
Anything else? Of course, the Parrot Anafi has several attributes that makes it great for surveying. But rather than list each attribute individually, let us just mention one that's sure to pique consumer's interest: artificial intelligence. The Parrott Anafi can automate flight modes, making repeated aerial mapping much simpler.
Finally, the Parrot Anafi has an ultra-compact foldable design. Why does benefit aerial mapping? Well, what if you want to survey an area of Dubai that requires some travel? Isn't folding your drone into a small package much easier than lugging heavy, awkward designs around?
The Best Drone for Dubai Aerial Mapping
So, which is the best drone for aerial mapping? It's really a question of personal preference, what your budget is and the areas you intend to survey. Many consumers are attracted to DJI for their reputation, but an equal number of consumers want a drone that meets their needs and aren't overly bothered by the prestige of a brand name.
Then there's the accessories. Obstacle avoidance and aerial awareness 4K cameras, programmable functions and, of course, price must all be considered before deciding the best aerial survey drone.
Bottom line? Consumers have choice, which is great! Take some time to figure out exactly what you want from your drone and you'll likely find the right one for whatever type of aerial mapping you need.
And the Best Company for Aerial Mapping in Dubai? Probably us, Sky Vision.