Four Essential Drone Cinematography Techniques Your Video Production in Dubai Will Benefit from with Sky Vision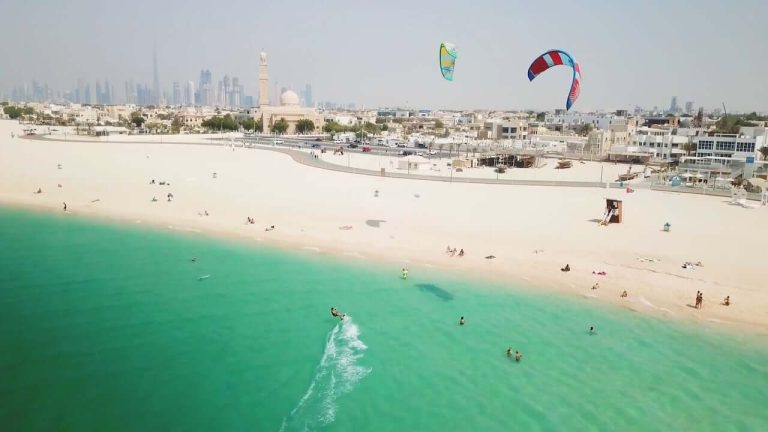 Let's get this out-of-the-way right off the bat, drone videography will give your business that competitive edge, regardless of business sector.
If a picture tells a thousand words, surely a video can tell, two thousand, or even ten thousand words! It's your opportunity to distinguish yourself from the competition and appeal to a broader customer demographic.
However, effective aerial video production in Dubai can only be achieved by a business that understands drone cinematography. Only then can inspirational videos of Dubai's energetic skyline or picturesque deserts be captured. Here are four essential drone cinematography techniques Sky Vision employs when creating that standout corporate video.
The Tracking Shot
Typically employed whilst the drone in moving parallel with the video subject, tracking shots are choreographed in synchrony. The whole essence of this technique is to make sure that the speed of the drone remains consistent with the composition point.
Widely used in motion pictures and sports events, tracking shots are favoured for their immersive nature, inserting you into the video and creating an experience as opposed to a stationary observer. They're also highly-favoured by every video production company in Dubai.
Difficult to pull off, yet highly rewarding when you do, tracking shots need much trial and error as you strive to synchronise the drone and camera height, distance and focal length. You can even increase or decrease drone speed depending on how comfortable you are, or include different movements to enhance the impact of the shot.
The Fly Over
You care barely switch on the television or fire up your laptop without seeing a fly over shot. From corporate video production in Dubai to commercials and TV programmes, these shots are commonplace.
The fly over shot is achieved with relative ease – providing that you have the acumen and experience to pilot a drone. All you need to do is to choose an object or individual point in the landscape, focusing the camera on it whilst flying the drone above as it flies over your mark.
Most often employed to gain some geographical perspective on an area, fly overs are especially adept at showing scale.
The Aerial Pan Shot
With drone photography, aerial pan shots are achieved by replacing the tripod-mounted camera with a rotating gimbal whilst simultaneously piloting the drone to achieve a panoramic shot.
This process is a mite more complicated than it may first seem, but once mastered the effect is visually stunning and unlike anything else captured.
The aerial pan shot can be achieved using varying techniques. Some videographers prefer to pan the camera left or right whilst accelerating or reversing the speed. Conversely, drone pilots can choose to hover the drone delicately whilst rotating the camera. This allows pilots to ensure a stable flight whilst capturing that breath-taking image. It's really a matter of personal preference and pilot confidence!
The Pedestal Shot
A shot that's better-suited to experienced pilots and seasoned video production in Dubai, the pedestal shot is one that relies solely on flying aptitude, moving the drone up and down without moving the camera or gimbal.
The benefit to mastering the pedestal shot is that it gives the pilot much more freedom to create those awe-inspiring videos of the Dubai skyline. Often employed to video architecture or views from the clouds, the pedestal shot requires a strong command of the drone.
Altitude can easily be adjusted. The pilot needn't concern him or herself with focal distance or camera movement as only one direction needed to get the shot.
So, there you have it, the four drone cinematography techniques that every Dubai-based video production company must master to achieve immersive and engaging videos. As you'll no doubt see from each of our videos, Sky Vision has mastered them all!
To find out how Sky Vision's video production company in Dubai can help you bolster your corporate marketing campaign, call us TODAY.